Fixing a trailer – one day summer project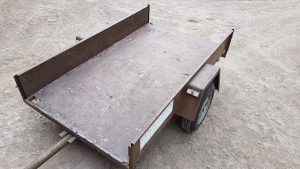 The old and beloved 30-year-old trailer is still in good shape but unfortunately the plywood floor of the cargo area was getting a bit worn out.
Some holes on the floor and as the trailer is often borrowed by others it was needed to note the loaners not to fall through the floor e.g. not step on the floor or put any heavy point loads on the trailer.
After removing the old plywood and adding some new the trailer is now almost as good as new.