Vaasa Hacklab has now a brand new workstation for electronic works!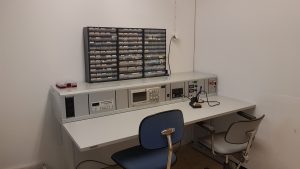 Workstation enables modern, easy and safe electronic works at the Hacklab. Mainly our electronics related projects have been concentrating on two main categories:
Recycling and repairing used electronic equipment
Small robots, monitoring equipment, controllers and other IoT related stuff
The Workstation for electronics (Teklab) consist of:
Oscilloscope 50MHz/1Gs/S/2-channel
Function generator 0.3Hz-3MHz, 7 regions
Adjustable voltage supply 0-30V/0-3A
ESD soldering station 100W
3x power sockets 230V/16A
The workstation is sponsored by Kontram, Devatus, Escarmat and Stormossen. Thank you for supporting us!