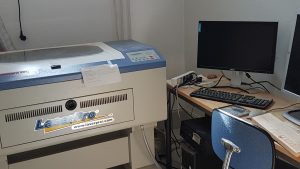 The laser cutter  is a GCC LaserPro Mercury I equipped with 25W RF stimulated CO2 laser. The working area is 635mm × 458mm. The laser is capable of engraving and cutting paper, cardboard, leather, wood, plywood (6mm) and acrylic (10mm). Also some other soft materials can be used.
The maximum engraving speed is 1066 mm/sec. When engraving an A4 size square with 250dpi at full speed, it takes  about 18 minutes to complete
Preparations
You need to have qualification for the cutter, ask someone for help
Make sure the fume exhaust is routed outside and the fan on
Make sure you are not cutting or engraving material that is on the list of forbidden materials. (PVC, carbon fibre, metal ..)
If your material is neither on the list of forbidden nor on the list of allowed materials, do some research first – make sure it is suitable for cutting
Do not look at the invisible laser as it is not good for you – use the camera
Safety
Never cut/engrave:
poly-carbonate (fumes bad for humans and residue bad for cutter)
carbon fibre (not good)
glass fibre (not good)
ABS (fumes bad for humans)
glass (glass dust bad for humans and not good for cutter)
metal (reflections bad for humans & cutter)
PVC (fumes kill humans)
Aaltopahvi / corrugated cardboard (cathes fire very easily)
Do not look at the invisible laser beam!
Workflow
Start CorelDRAW

Draw or open the graphic you want to cut/engrave

Hint: If an SVG file doesn't show up properly, open it in InkScape and copy to CorelDRAW
Hint: some file formats cannot be opened directly on CorelDraw, but can be imported from File –> Import (CTRL+I)
Hint: Open preferences (CTRL+J), select Grid from the menu on the left, set grid to suitable size, check Show Grid and Snap to Grid. Lining up objects just became a lot easier!
Hint: Drag guidelines from the rulers to mark the material boundaries

Laser will engrave everything else but hairline vector lines

Start the laser

Turn on main switch from the extension cord

Should turn on exhaust fan (plug connected?)

Turn on laser cutter (switch at right hand side, close to back side)

If laser is complaining Y-axis error

Turn off laser
Move Y axis to front of machine by hand
Turn on laser

In the initialization phase the table will move 50 mm down

Put your material into the laser in the top left corner
Press start/stop from the control panel

on display it will show "stop"
move the head on top of the material so that the focus hole in on the material (NOTE! the cutter surface is badly warped. Use highest position.)
put the focus calibration tool (60mm bolt) into the hole
use the up/down buttons to bring the material to just touch the focus tool

focus is now correct for the used lens

Press start/stop from the control panel

the panel display should resemble copier display on standby

Back to CorelDRAW

From menu Print..

Printer properties -> Pens

Different colors on drawing can be used to set different settings for laser
speed/power to distinguish between cutting and engraving
check suitable speed/power settings from the list of allowed materials

Print

Never leave laser unattended – risk of fire

Turn off laser
Turn off main switch in the extension cord
If you found a new suitable material that is not on the list, please add it along with suitable settings!
The Mercury acts as a regular printer on the Windows XP (32bit) computer. The settings of laser are controlled via different pen colors in the printer driver.
Mercury User Manual (PDF)
Engraving
Laser is able to engrave pretty much any bitmap you can open on the computer. Partially transparent PNGs cause crashing, hence it is strongly recommended to change transparent parts to white.
Cutting
In order to cut you need to have a vector graphic with thinnest lines. Too thick of a line is considered as engraving job. When cutting the speeds are extremely low, around 1% mark and power is full 100%.