Really basic data analytics with Google Data Studio
After recent news regarding the more open attitude from Google towards opening their Data Studio service out to public and without a cost it was time to figure out what it actually is. To begin with it does not seem to have any deeper data mining tools and functionalities but it should be possible to create live documents with always up-to-date information with different data source plugins. Integration should work nicely with other Google products such as YouTube and Google Sheets.
Suitable test data was Hacklab.fi news feed which aggregates news from Finnish Hacklabs. The feed was able to provide latest 100 entries and simple presentation of occurrences of each Hacklab in a pie chart could be produced. The XML formed RSS was converted to csv using online converter service and then then some tweaking of csv was required for Data Studio to accept the csv. Data Studio seemed to be happy after removing the description column of the csv – the one with a lot of text and different formatting characters.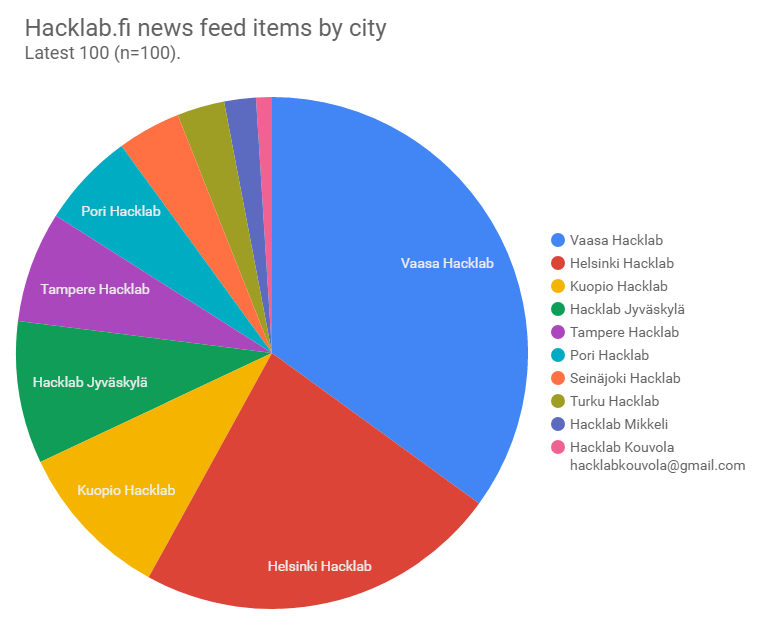 The same report is available from google, https://datastudio.google.com/open/0B3H1Hk9XzvFSNjZXQlhIcnFFUFk but the contents of the report might change. And for Google reasons you need to sign in with Google Account to be able to see the report. This is a known issue on Google side.