Hack The Cache!
Tänään 18.3 lauantai-illalla järjestettiin läbillä Hack The Cache!-tapahtuma eli geokätköilijöiden miitti.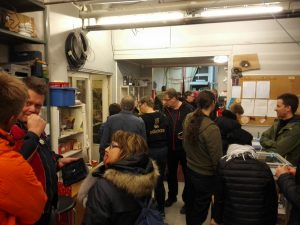 Kuten kuvista voi päätellä, tapahtuma oli menestys. Näin saatiin lauantai-iltaan mukavasti yhdistettyä kaksi harrastusta, läbillä hengaus ja geokätköily. Paljon tuttuja ja uusia tuttuja kätköilijöitä vieraili labilla illanmittaan.. Miittikirjaksi tehtiin tietenkin laserilla vaneri johon sai polttokynällä nimimerkin rustata ja miitin kuitata käydyksi. Illan lopussa nimiä oli vieraslistassa yhteensä 56!
.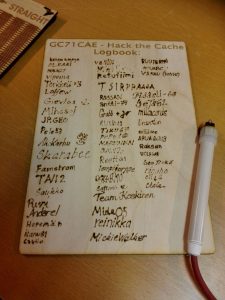 Erityiskiitos Suville leipomuksista, kinderpiirakka teki kauppansa jälleen kerran ja Wolfgarlle laseroperaattorina toimimesta.. Miitin aikana Herra kaiverteli laserilla 36 kappaletta nimikylttejä kätköilijöille käytettäväksi seuraaviin miitteihin. Jos siis näkyy valkomustia akryylisiä nimikylttejä, ne ovat hyvin todennäköisesti meiltä peräisin.