Wasa Future Festival 7.8. – 12.8.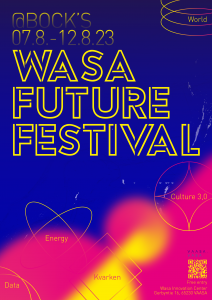 Wasa Future Festival alkaa tänään ja kestää koko viikon. Vaasa Hacklab on mukana näyttelytilassa, jossa voi tutustua kiinnostavaa teknologiaan ja paikallisiin tekijöihin.
Tapahtuman pääsisältö on teknologian ja yhteiskunnan kehittymistä käsittelevät esitykset ja keskustelut, joihin voi tutustua tapahtuman ohjelmasivulla.
Tilan avajaiset on tänään maanantaina 15:00 ja tila on auki muina päivinä klo 11:00-18:00. Torstaina on taiteiden yö, jolloin näyttelytila on osa Vaasan Taiteiden yötä ja auki keskiyöhön. Kartta näyttelytilaan löytyy alhaalta.
—
Wasa Future Festival starts today and runs until Friday. Vaasa Hacklab participates the event in expo hall where you can see interesting technology and local organizations.
Main content of the event is presentations and discussions about development of technology and society. You can learn more about this on the programme page.
Expo hall opening is today at 15:00 and it is open on other days it's open between 11:00 and 18:00. On Thursday we have Vaasa Night of Arts and expo hall is open until midnight. Map to expo hall is below.