Hacklab temporarily offline! / Hacklabillä ei sähköjä!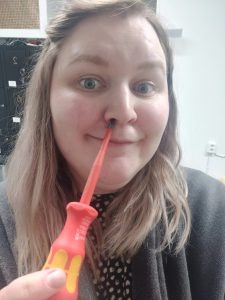 Starting Friday (2.6.) afternoon we will be moving the electrical cabinet. This means there will be no electricity at Hacklab. Only softlab and kitchen will have electricity.
This will go on until all the cables have been changed, the estimation is Sunday evening/beginning of the week.
Perjantai (2.6.) iltapäivstä alkaen Hacklabillä ei ole sähköjä. Ainoastaan keittiössä ja softläbillä on sähköt.
Siirrämme sähkökaapin ja sähköt palautetaan kun urakka on valmis. Sähköt palautunevat sunnuntai-iltana tai alkuviikosta, kattoo ny, tulloopi ku tulloopi.