Joulupukin lahjapaja 14.12. ja 21.12. / christmas present workshop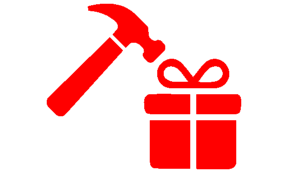 Joulu tulee ja paras tapa hankkia lahjat on tehdä ne itse.
Pidämme Vaasa Hacklabilla joululahjapajat 14.12. ja 21.12. klo 18-22. Illan aikana on mahdollista käyttää tilojen työkaluja ja koneita sekä paikalla olevien ihmisten osaamista omien joululahjojen tekemiseen tai muokkaamiseen. Esimerkiksi oman tekstin kiinnittäminen paitaan tai oman kuvion kaivertaminen korkkipannualustaan onnistuu. Kahvia, teetä ja pipareita tarjolla.
Pajat ovat loistava tilaisuus tukea Vaasa Hacklabin toimintaa käyttämättä jääneillä Smartum- tai Epassi-rahoja.
—
Christmas is coming and best way to get presents is making them yourself.
We will be holding present workshops on 14.12. and 21.12.18:00-22:00. During events it is possible to use tools and machines at our space in addition to skills of our members to make or customize your presents. For example it is possible to attach your text on shirt or engrave fun image into cork pot coaster. Coffee, tea and gingerbread cookies are available.
Workshops are great way to support Vaasa Hacklab with left over Smartum or Epassi credits.