Concrete Workshop Part I
On Tuesday we had a delightful evening with the wizard of Maalahti. We had a lot of participant, which was a pleasant surprise!
According to Jarmo the of Härmä region, the concrete we used was "dry concrete". It came in a yellow bag and had some stones in it, so when we added water, the stuff was rather coarse.
The wizard of Maalahti had come up with an idea of using a towel, covering it up with a concrete and letting it dry upside down. The result was rather interesting, although we concluded that adding a little bit of resin would have perhaps hardened it more.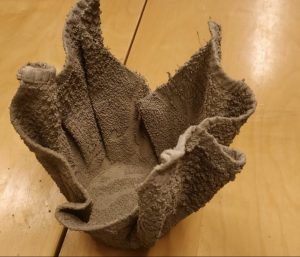 Air bubbles can ruin the structure of a perfectly good piece of concrete. We tried to solve this issue bu using scroll saw (lehtisaha). We didn't really use it for sawing anything, but we greatly benefited from its vibrational qualities.
We actually did manage to get some air out, but the question of whether or not we benefited from it, remains.
Sitting was one of our central themes.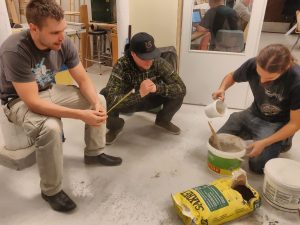 In part II we will reveal what became of our work. Stay tuned!