ZSNAPS kimppatilaus / grouporder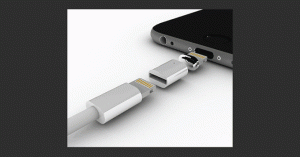 Kimppatilaus suoritettu!
Groupordering done!
Löysin tuommoisen kivan kickstarter-projektin, jolla saadaan mistä tahansa MicroUSB tai Lightning -kaapelista "magneettikiinnitteinen" versio, tämä joistain Macbookeistakin tuttu virtaliitinmalli, jolla saavutetaan helppo irroitettavuus ja voi kompuroida jne eikä heti kaikki ole rikki. Vaikka tuolta ei toimituskulut ole juuri mitään yksinäänkään, niin ajattelin että voitaisiin tehdä kimppatilaus, niin ei jokaisen tarvitse erikseen pähkäillä.
I found this nice kickstarter-project, where one can turn any MicroUSB or Lightning -cable into "magneticly attached" version, just like some Macbooks powerconnector is, to achieve easy decoupling, should one stumble into wire etc and not break everyting on the go. While deliverycost for individuals is low for the product I figured it might be more convenient to grouporder, so individuals doesn't have to think so much, maybe.
Kimppatilauksen tiedot / Grouporder info: http://kirjoitusalusta.fi/vaasahack-mag-kimppatilaus
Valmista toivon olevan 26.7.2015, Tämän jälkeen ehtii vielä hyvin tilata yksinkin tuolta kickstarterista jonkinaikaa.
Be done at 26.7.2015, after this one can still order individually for awhile form kickstarter.
Lisää tietoa itse tuotteesta / More info about product itself: ZNAPS -The $9 Magnetic Adapter for your mobile devices