Projektiraportti: bag of tricks versio 1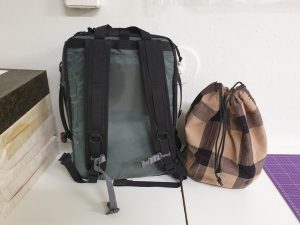 Hacklabin retkeilyporukan reissuilla tuli kesällä tarve järjestellä ruoanlaittotavarat yksinkertaista pussia paremmin rinkan sisällä.
Aloin etsiä netistä syksyllä sopivaa säkkiä/pussia tähän tarkoitukseen, mutta etsintä ei tuottanut tulosta joten päätin opetella vihdoin ompelemaan ja tehdä sellaisen itse. Etsin rauta- ja retkikauppojen lisäksi myös taikurikaupoista, koska ajattelin että siellä voisi olla tarjolla käteviä pusseja. Sekään ei tuottanut tulosta, mutta projekti sain sen kautta nimen "bag of tricks". 🙂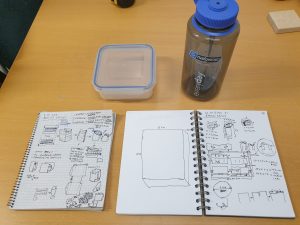 Ideana ruokapussille on tehdä pieni narulla suljettava säkki, jonka sisäpinnalla on taskuja pikkutavaroille (spork, mausteet, kokoontaitettava muki, yms) ja keskellä tilaa muutamalle eväslaatikolle sekä juomapullolle. Youtubesta ja blogeista löytyi ohjeita ompelemiseen ja pussin eri ominaisuuksien suunnitteluun.
Vihkoon suunnittelemisen ja muutamien ompelukoneen opiskelutuotosten jälkeen leikkasin ensimmäisen version palat hacklabilta löytyneestä kankaasta ja muutamien iltojen aikana kokosin pussin. Säkin kokoamisessa tuli opeteltua hacklabin ompelukoneen käyttöä/ongelmanratkaisua laajemmin sekä käytännössä opittua miten lähinnä netistä lukemalla/katsomalla opitun perusteella suunnitellut asiat toimi tai ei toimineet käytännössä.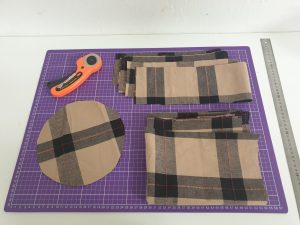 Ensimmäinen versio säkistä ja taskuista tuntuu hyvältä ja tulee olemaan testikäytössä jonkun aikaa. Seuraaviin versioihin on koottuna ja pitkä lista muutettavia/parannettavia ominaisuuksia, joista isoin on kahden eri kankaan käyttäminen pussin ulko- ja sisäpintaan.