Training and workshops 2018

Kevät 2018 näyttää aktiiviselta Hacklabin kurssitarjonnan puolesta. Kurssit järjestetään aina tiistaisin Vaasa Hacklabin tiloissa klo 18, ellei toisin mainita. Tarkemmat tiedot kurssimaksuista ja kursseille ilmoittautumisesta tulevat Hacklabin sivuille noin kurssia edeltävällä viikolla. Lisätietoa kursseista voi kysellä keskiviikkoisin avoimien ovien aikaan tai sosiaalisen median kanavilta / facebook & telegram.
Spring 2018 will be very active from the training & workshop perspective at Vaasa Hacklab. Workshops are held on Tuesdays, starting at 18:00 at Vaasa Hacklab, unless otherwise stated. Specification about the specific workshops and registration will come on the week before the workshop. More information about the workshops can be asked on Wednesdays during the open house events and from social media channels / facebook & telegram.
Kurssikalenteri 2018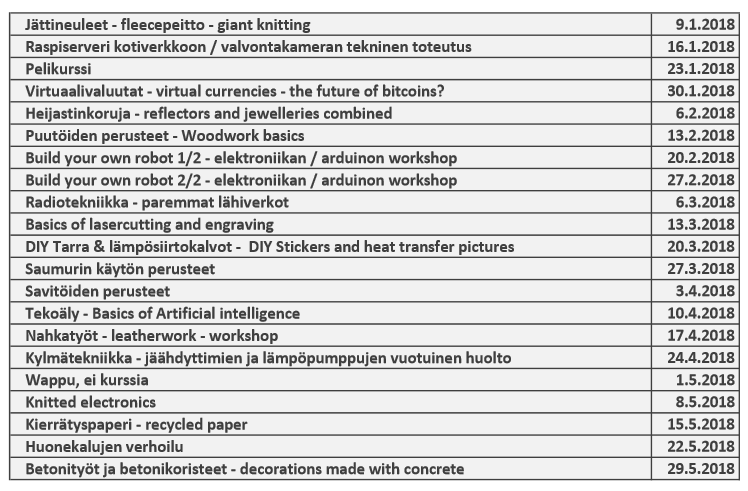 Kurssikalenteriin saattaa tulla muutoksia kevään aikana. Kurssit järjestetään vapaaehtoisvoimin.